Paint Revolution
412 Nichols Ct
Saint Peter, MN 56082

507-519-2012

contact@paintrevolution.co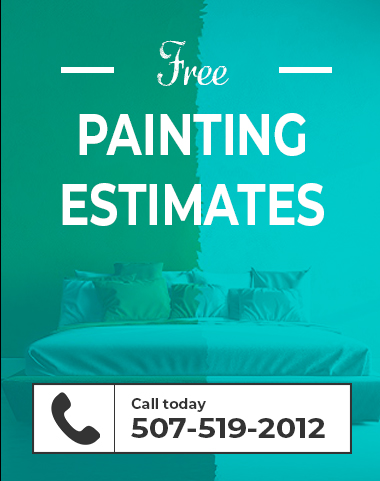 Frequently Asked Questions
Find answers to your questions below
What kind of jobs can you do for your customers?
Besides the standard interior and exterior painting jobs, we can perform waterproofing, gutter cleaning, cabinet refinishing, deck restoration, drywall work, ceiling textures, drywall repair, pressure washing, floor coating and more. If there's anything you need not listed here, feel free to contact us and ask. Paint Revolution has done work for residential and commercial clients and are familiar with the best techniques to use in order to guarantee the superior results that each customer deserves.
I'm not sure which color to choose, can you help?
Certainly. We are happy to help you make design choices and give you advice on color selection. Whether you've already got everything planned out from start to finish or want input from a professional, we can help. After all, we also want to make sure that your home looks great.
Are estimates really free?
Yes, every estimate is 100% free with no obligation on your part. You will receive an accurate and reliable estimate so that you know how much you can expect to pay for your project. As an honest painting contractor, we're fully transparent about our prices, so you won't have any surprises about hidden fees or deal with annoying salesmen that try to sell you services that you don't need done in your home.
Do you use quality paint in each home your work in?
We believe that to get quality results, you can't use cheap supplies. This is why we always use the best quality paints available from Sherwin Williams that are appropriate for your project. If the job requires it, we will use a special type of paint suited for the type of surface being painted. We can use a different paint brand if requested.
What is paint actually made of?
Paint is a group of emulsions made up of pigments suspended in liquid. Paints used today are made out of a variety of compounds. Some of them are optimized for specific uses, such as residential, commercial and furniture paints.
Can you give me an estimate over the phone?
The reason Paint Revolution does not give estimates over the phone is because we pride ourselves on quality and accuracy. Every home is unique, we need to be able to see the home firsthand to give you the most accurate price and relevant discounts.
I need some painting work done quickly. How soon can you begin?
Don't hesitate to give us a call to find out what we can do to help. We will give you an honest answer depending on which services you need and the size of the project. In any case, you can be sure that we will make every effort to meet your deadline.
How long do jobs normally take to complete?
Once Paint Revolution works on your job, our painters will be there consecutive days until the job is done. Project complexity and product drying times will determine how long your project takes to complete. However, we can complete most jobs in a few days, and larger jobs in a week. All estimates include a expected timeline for your consideration.
How soon can the job be started?
Paint Revolution employs professional, full-time painters. Once a job has been contracted, a start date is usually within a couple of weeks. We are able to accommodate most time frames, depending on the time of year. Our work is usually completed within the usual workweek, Monday through Friday. We cannot start a job without a signed contract & deposit. The remaining balance is due upon completion.
If I'm not satisfied with the work done, will you correct the problem?
We offer a 100% satisfaction guarantee and strive to perform the best paint job you can get. If you notice a problem with work we've done for you, call us to report it and we will correct it. We take great pride in being a professional painting company and want every customer that hires Paint Revolution to be happy.
"He picked the right name for the business! My home feels liberated from drab, dreary, and boring! They showed up when they said that they would, finished ahead of schedule and did a great professional job at a very competitive price. I would definitely use them again!"
"Prompt. Quality work. Clean during and after work. Detailed, clear estimate on stayed on cost. Would definitely recommend and use again. Great job."
"I cannot be more satisfied with any other company. Professional, prompt and on time, quality work, and friendly painters. I have already recommended them to a friend thinking about painting the inside of their house."
"We just want you to know that we are very pleased with the paint effort you did on our homes. Also, personally I want to express my complete satisfaction for your hard work. Very professional in every way. Thanks for a job well done!"
Don't paint alone! We can help!
Contact us today for a free project estimate!